Who We Are
Emmanuel Christian Center is an Assembly of God Church located in the historic Valley View section of Phillipsburg, N.J, led by Sr. Pastor John Hudak.
We are the "Solid Rock" Church where we experience Emmanuel-God with us!
At the heart of our ministry is a lifestyle of The Great Commission, leading, and empowering people to become all that God has purposed and destined for their lives. Allow the Lord bring transformation to your life with the support of a loving, relational, Spirit-filled community of people who will encourage you to discover God's plan for your life!
We invite you to gather with us every Sunday at 10:30AM to experience the love of Jesus Christ by the power of the Holy Spirit through our contemporary worship experience and Pastor John's anointed, Christ-Centered preaching!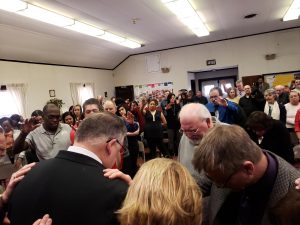 Mission & Vision
Reaching, Loving, Leading, and Discipling people into a personal relationship with the Lord Jesus Christ, transforming lives and Transforming our World.